Who I am
Born in Siena (Italy) - Living and working in London since 2003.
My research involves a multiplicity of traditions in the history of art and is about building bridges with science and philosophy. I've always had the geometry as an integral part of my work, not only of my artistic training but also as a philosopher of science.
Displacement is a three-dimensional journey. Each point appears in my ideal space, that represents the cosmic space, and moves, leaves a trail, is displaced.
Since 1990, I have devoted myself exclusively to the visual arts.
I exhibited widely in Italy and internationally.
In 1992 I was nominated for 44th Michetti Prize, Francavilla al Mare (Chieti, I), and in 1993 as well for Marche Prize, Ancona (I).
MANUELA CORTI
I grew up in Siena, the city where Duccio da Boninsegna and Beccafumi were born.
Since childhood, my favourite landmarks were the cathedral (a mostly gothic and renaissance building), "Piazza del Campo" and the many "Lavatoi" (public places where women, in ancient times, went to wash clothes). The most famous among them is called "Fontebranda", a pure medieval structure.
My childhood games took place among the famous "kitchen gardens", ancient marble, tufa stones, architecture and monuments (which everybody can enjoy just walking by), wood art works, oils on canvas and on wood painted by the great artists of our history.
When I was twelve years old,I discovered the restorers' workshops. It was that discovery that started my interest in art. At the beginning it was, of course, a very special game. My grandfather restored parts of the cathedral's two wooden doors.
I imagined showing them to everybody, stopping the tourists to describe what my grandfather had made.
So the first steps of my childhood, and in the field of art as well, were to learn the techniques of thirteen-century art, and I consider myself very lucky for that.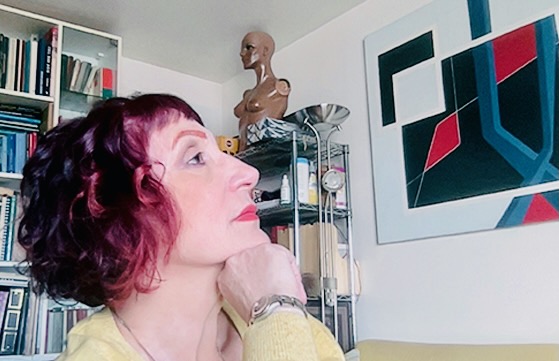 EDUCATION
1981 - 1985 University of Bologna, Doctoral Degree in Philosophy of Science, Magna cum Laude. After obtaining my doctoral degree in Philosophy with a specialization in Epistemology at the University of Bologna, I spent four years as an Assistant Professor with Professor A. Pasquinelli, Chair of Philosophy of Science at the University, gaining experience in research and teaching.

Notes on my activity:
1991- Rosemont (PA - U.S.A), Lawrence Hall Gallery, solo exhibition, workshop (four big geometric sculptures made with fine art students) and speeches.
1992 - Gubbio (I) XXI Biennial Sculpture. Iron-Concrete Sculpture 180x200x600 cm - Acquired by: Bargellini Museum, Pieve di Cento (Bo, I)
1993 - Ancona (I), Biennial of Contemporary Art, Marche Prize 1993 curated by Renato Barilli, Floor installation with TV, video-camera and polaroid printer with remote control. Paper, cardboard and wood, dimensions to the ground: 16 sqm
1995 - Paris, At the Donguy Gallery and at the "Interno e dum dum" Gallery in Bologna (1998) I exhibited an installation that simulated rain in the gallery.
1997 - (Torino, Promotrice delle Belle Arti) I used Mozart's Requiem to create a model of laic Transubstantiation that was shown in the exhibit "Va' Pensiero, Arte Italiana 1984-1996", curated by Edoardo Di Mauro.
1998 - (Bologna), Contemporary Art Museum, Villa delle Rose, Artistic Research Lines 1965/1995, curated by Roberto Pasini.
Etc...
2002 - Paris, Centro George Pompidou, for the video section of Festival Polyphonix 40.
Etc...
2006 - Auditorium Park of the Music in Rome - Studio Theatre, Italian Festival in Videoclip poetry.
Etc...

My recent activity
2019 - I had many group exhibitions in Alkamaar (NL), Bologna (I), Parma (I), Milano (I), Modena (I)
2018 - Group exhibitions in Italy: Bologna, Reggio Emilia e Parma
Etc...
2014 - London, The House of Peroni, environmental installations, made in collaboration with Carlotta Actis Barone. Kinetic works and sculptures - mixed media.
2014 - London, Design Museum, mixed media sculpture, made in collaboration with Carlotta Actis Barone.
From 2014 till present day I joined 'Warlike Frail Women' (WFW) that is a poetic and artistic movement, founded in 2014 by Daniela Rossi and Rosaria Lo Russo, but also a work in progress (Rome, Parma, Florence, Reggio Emilia, etc.), which explores the various expressions of women, from poetry to visual art, from theater to music and to video art: the aim is to promote and research the different forms of art with exhibitions, conferences, concerts and shows. At the 'Warlike Frail Women' appeal - 'Call to Arts', the female artists answering with paintings, visual poetry, performance, photographs and installations, are different each other for techniques and thematic, but share the poetics of language and female imagery, irony, courage, and the will to preserve the memory by witnessing the present times.
Biographical data beside

1996 - Rosemont (PA.- U.S.A), Lawrence Hall Gallery "Women: object / subject" curated by Patricia Nuget

1998 - Rome, Palazzo delle Esposizioni "La coscienza luccicante" from video art to interactive art, curated by Paola Sega Serra Zanetti and Maria Grazia Tolomeo.