Postface
At late dawn on the fourth day, around four o'clock, while the train was rushing at unsustainable speed towards the Capital, the Protestant minister was awakened by the screeching of a bird of prey, it was the twelfth time he had a compelling need to urinate.
He was washing up when he noticed the vial. It was a pretty vial, enclosed in a solid silver case, with many numbers on the side, and artistic decorations along a groove in the middle (work, perhaps, by Cellini himself). A vial the like of which he had never seen, containing an oily fluid. Sealed with a snap-cap, a red velvet ribbon, and red wax with an impression around the whole circumference.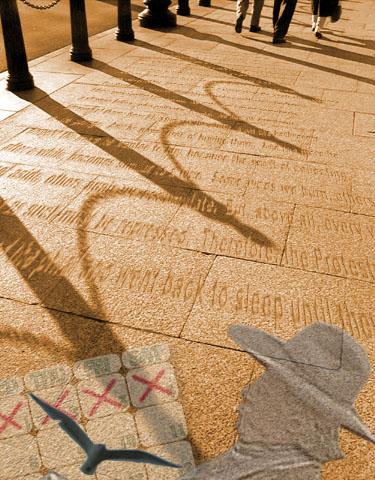 The Protestant minister thought it must be a collector's perfume. In fact, many collect perfumes. He even had known somebody, a strange fellow, who collected books. He had an enormous amount of them: from his study to the stairs, from the bathrooms to the garage. And he never tired of buying them. And the more he bought the more he wanted to buy, because the spirit of collecting, after a while, becomes similar to a vice. Some vices we burn, others we set aside, others again we accumulate. But, above all, every vice is a sin, and as such must be repressed.