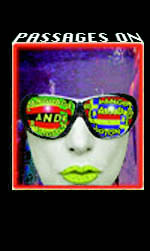 PASSAGES project for an image proposed by Manuela Corti
From November 17 1997 to April 20 1998, every Monday for 23 weeks we updated this site by adding four new works of web art, submitted by four artists living in different parts of the world, who interpreted visually the same text taken from an Italian novel, at the same time translating it into their own language. Every week the text was different.
The subject of this project was the novel ANTROPOECCENTRICO by Gianni Actis Barone (Edizioni dell'Ortica Publishers, Bologna 1998).